Sale!
Green Grass Lawn Care Use For All Garden Solution 1 kg
Dosage And Application
Apply or sprinkle evenly 1 kg.Pack lawn care 1300sq. feet.area  of lawn and shower Heavily/flood with water.Lawn care is recommended during the preparation of new lawns and flower beds.Use lawn care when the soil is changed or lawn top  dressed to avoid the attack of insects.Use lawn care twice a month of have  lush green insect-free lawns and plants.
Description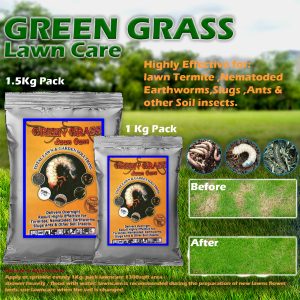 Lawn care is suitable  for all types of grass including American and Dhaka grass.Lawn care  can also be used in flower  beds and ornamental plants.Lawn care not only kills the insect found under grass but also nurtures the lawn with its unique composition of effective insecticide and efficient lawn growth boosters.